The work we've done for Brentwood Bay Resort allowed us to apply an assortment of our unique strategies and skills in support of a renowned local establishment that just happens to have international reach.
Working hand in hand with Brentwood Bay Resort senior management, our creative team was able to work directly with the people on the ground who do the work, have the insights, and make the decisions. We helped them distill what it is that they believe in most, and apply it to a variety of creative marketing assets including brand identity, physical collateral, and an all new modern WordPress website.
Brentwood Bay Resort business cards, Arbutus Room Menus, and Pub Poster templates designed by our creative team.
"Working with The Number resulted in a beautifully expanded brand identity for the Resort, and a clear path forward to produce the engaging creative marketing assets we require to connect with our guests at every step of their journey to us.



We recommend The Number to any organization looking for thoughtful creative support for everything ranging from team facilitation, creative consulting, graphic design, and website development."

Natasha Richardson

General Manager, Brentwood Bay Resort
Strategy
Facilitating an in-person creative session, our team was able to dig in, ask questions, and help establish the values and goals of the Brentwood Bay Resort team members.
Implementation
With key brand insights established, we applied our skills to the design and development of all new core brand assets.
---
Strategy

Brentwood Bay Resort is a fixture of Vancouver Island business and community. As their team began to introduce the property to an all new selection of travellers, they realized their existing creative marketing approach needed an overhaul. Our creative leadership team facilitated a full day of in-person creative exercises, collaborating with key members of the Brentwood Bay Resort senior management team to channel their passion and knowledge into a clear outline of their brand values, goals, customer bases, and messaging opportunities.
---
Implementation

A project of this size and scope is typically executed in multiple phases. After we completed the full-day, in-depth creative branding sprint with key decision makers, we began work on the all new Brentwood Bay Resort brand identity. This deliverable included new type hierarchies, colour palettes, patterns, photo treatments, illustrations, and logos for the resort and all its sub brands.

With the brand identity completed, we turned out sights to the reimagining of all Brentwood Bay Resort print and digital marketing assets. This began with items like poster templates and dining menus, before focusing on the design and development of an all new Brentwood Bay Resort website.
A suite of sub-brand icons represent the Brentwood Bay Resort's unique offerings.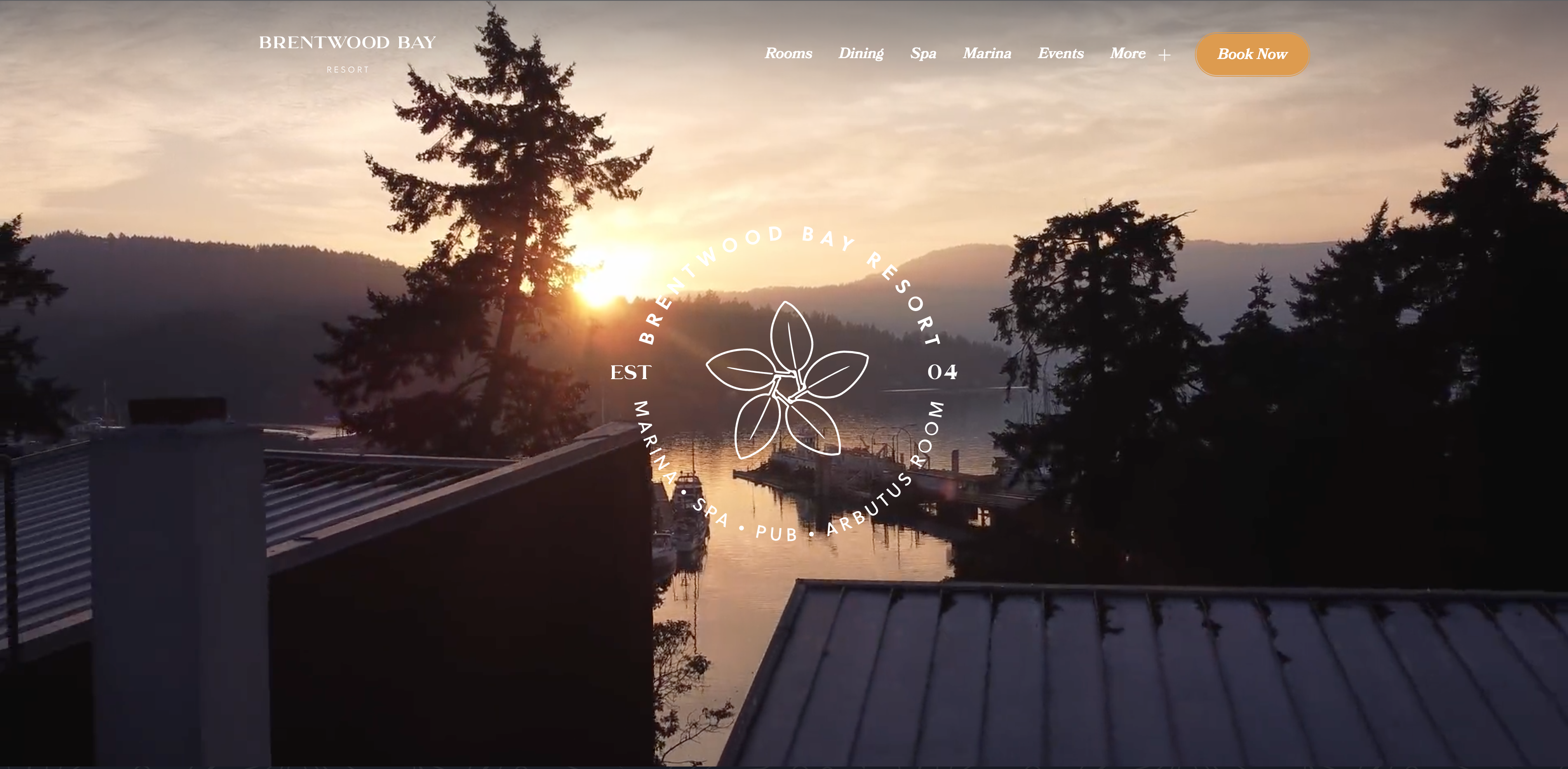 A complete redesign to the entire structure, design, and functionality of brentwoodbayresort.com – designed and developed by our creative and web teams.