The Alberta Ale Trail is a tourism marketing initiative we embarked on in collaboration with the Alberta Small Brewers Association, Travel Alberta, and hundreds of breweries from across the province. Working together we created a comprehensive database of all the fantastic craft breweries in Alberta, a series of short documentaries, a number of curated itineraries, countless photos, and a beautiful website and exciting mobile experience.
With the main goal of the project to serve as an inspiration for beer-focused travel, we created itineraries in several regions of Alberta that take you on a journey through each community's unique craft beer scene. Our custom brewery map on the Alberta Ale Trail website serves as a directory for every single brewery in the province. You can also search breweries by feature, allowing you to find a brewery with bike racks and a dog-friendly patio that serves gluten-free beer! On the Alberta Ale Trail app, not only can you explore these itineraries, but you can also earn points and level up by checking in to breweries along the trail, bringing beer lovers to exciting new destinations while also promoting the brewers who serve their communities.
Beer Icons created by our design team. Used for levels on the ABAT app, and for brewery profiles to spotlight their recommended beers.
Home page of the Alberta Ale Trail website.
Custom map interface on Ale Trails provide a visual representation of the stops along the trail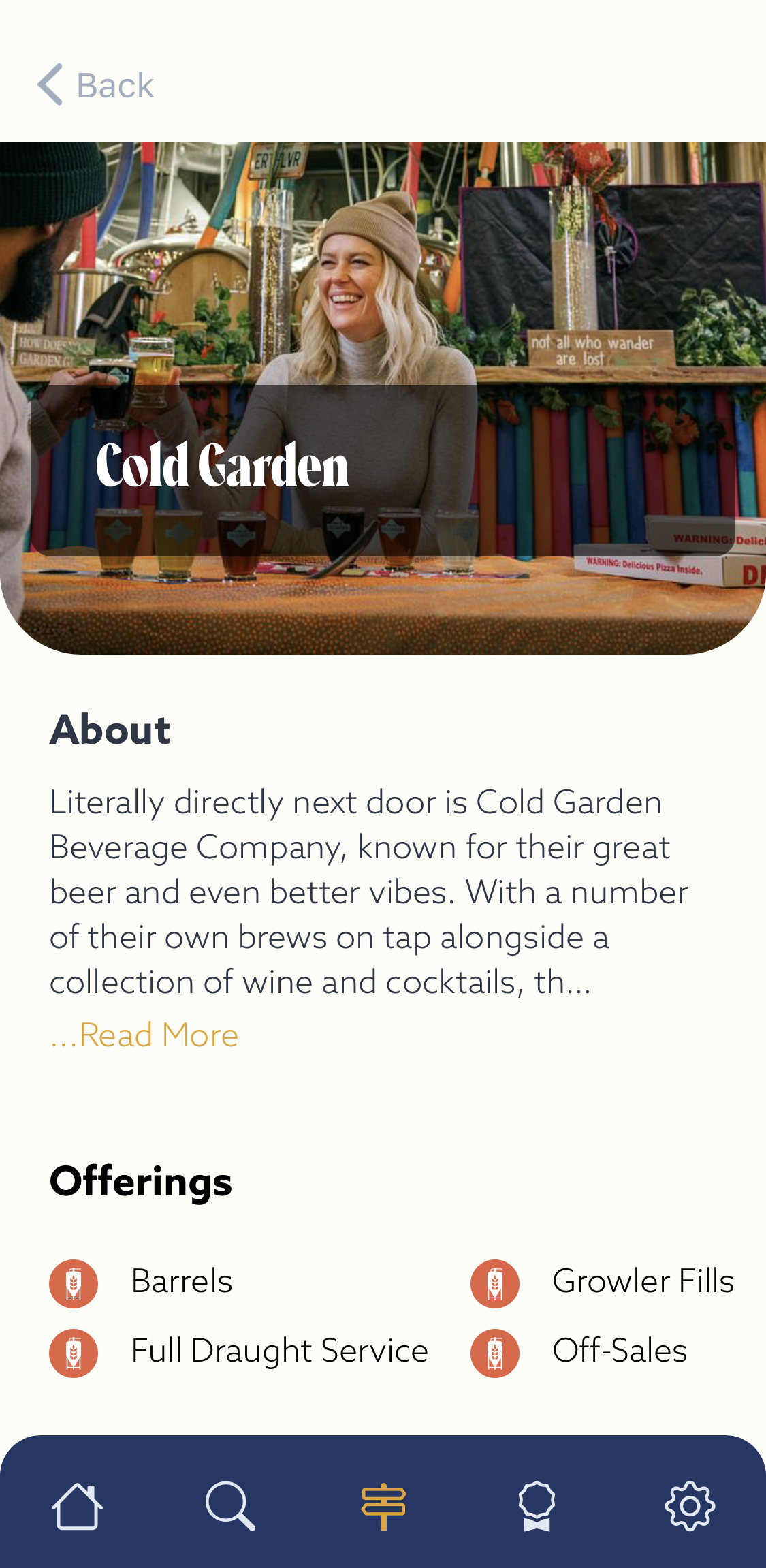 Check in at breweries, earn points and explore the Alberta craft beer scene on the Alberta Ale Trail app.
Strategy
Our experience in multi-stakeholder tourism marketing projects in BC made us perfectly positioned to deliver on the Alberta Small Brewers Association's vision for this campaign. Building on those learnings, we needed to give the project an Alberta twist, leaning on Travel Alberta's Wild Side brand and the independent spirit of the province.
Implementation
The Alberta Ale Trail project aimed to deliver itineraries and marketing assets for the entire province in the same year as the launch, something that it took us several years to implement for the BC Ale Trail. Using our learnings from our other trail campaigns, a phased approach and using our own Itinerator software that we designed specifically to support these types of projects, we were able to compress timelines. We created a brand, website and app, and launched 15 trails with curated itineraries, custom brewery profiles, promotional videos and photos in 3 phases over 5 months.
Icons designed by our creative team used as map markers on our Ale Trails.
---
Implementation

To kick off this project we met with our stakeholders to flesh out the goals of the project; inspire beer-focused travel in Alberta, promote local businesses, and provide a database for craft breweries in the province. To bring these aspects to life we used our in-house tourism data management platform Itinerator to manage the hundreds of listings and develop the custom itineraries or 'Ale Trails' for the app and website. We developed a bespoke map to highlight the breweries in the province with a tailored search functionality, and to act as a visual aid within the itineraries.

To establish our campaign as the leading source of info on Alberta craft breweries, we reached out to hundreds of brewers who shared feature details, descriptions and images of their businesses. This allowed us to present our easily updatable brewery profiles in a consistent and user-friendly manner, highlighting contact info, brewery experience details, awards and recommended beers. With our custom map system on the Brewery directory page, you can search for breweries based on these features. If you're looking for a brewery that has vegan menu options, non-alcoholic beer, an outdoor patio, or anything in between, the Alberta Ale Trail can help you find it!

For the curated itineraries, we sourced input on the best places to eat, explore and rest in each region through recommendations from the brewing community and DMOs.  Then with additional research by our own tourism content specialists, we were able to ensure each suggested experience was a good fit for our target audience. 

Our creative design team and content writers came up with a visual identity and brand voice that is inspired by Travel Alberta's Wild Side brand, highlighting the incredible natural beauty of the province, and the welcoming and approachable nature of the craft beer scene. The identity was used for collateral like regional posters and rack cards, and to inform the web and app design. The colourful and retro-inspired design is uniquely Albertan and captures the hospitable and independent Alberta spirit.

Our team of web developers designed a user-friendly, modern site for easy exploration. Visitors can learn about the unique regions in Alberta, woven with regional storytelling and placemaking featuring the brand voice, start exploring Ale Trail itineraries, search for breweries and learn more about them through their profiles, or read stories from beer lovers just like them.

The final stage of this project was bringing the mobile experience for the Alberta Ale Trail to life. Through plenty of collaboration and hard work from our web and app developers, and designers, and the use of Itinerator, the app was launched in October of 2023, 5 months after the launch of the website once the final Ale trails were debuted. With the app, beer lovers are motivated to explore new breweries and earn points by checking in. Tiered levels and challenges that range in difficulty aim to encourage users to get out there and find their new favourite brewery in regions across Alberta. This also opens up opportunities for collaboration and investment opportunities with other sectors and stakeholders to drive check-ins to specific locations via contest promotions, delivering rich visitation data via our app analytics.